What the papers say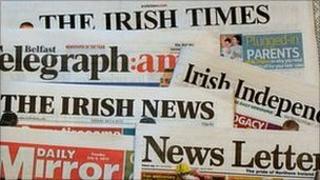 Journalist Mike Philpott takes a look at what is making the headlines in Thursday's newspapers.
The Irish News has the sad story of how the family of a seven-year-old boy are heartbroken after being told that an operation that could have saved his life has been called off.
Patrick Campbell, from Crumlin, had been due to undergo a bone marrow transplant to treat a rare form of cancer. But the disease is growing too aggressively to allow the surgery to go ahead.
The News Letter reports on fears of a high-speed crash as motorists drive the wrong way along a new dual carriageway.
The paper says the new section of the A4 in Tyrone was built to motorway standards, but some drivers are still treating it as a single carriageway road. Motoring matters also feature in its comment column, where it urges drivers to be alert in the worsening weather.
The Belfast Telegraph follows up Wednesday's stark report on the effects of the economic downturn with an account of how it is affecting the property market.
Its front page features a fine listed building designed by Charles Lanyon. It's near Coleraine and is selling for only £190,000.
Events in Europe are the most widely covered issue in both London and Dublin. The Irish Times reports that concern is mounting about discord between European leaders ahead of the most crucial summit for years.
It says there is anxiety in Dublin over predictions that Britain will push for concessions as the price of its support in saving the single currency.
The Financial Times predicts what would happen if the euro were to fail. It says the consequences would be "staggering" and commerce within Europe and beyond would be paralysed.
But it is by no means the only issue on the front pages. The Times reports that taxpayers are continuing to be billed for a failed computer system in the health service even though the government has already pulled the plug on it.
The Independent continues its investigation into political lobbying, and reports how a leading public affairs company put a positive spin on the use of child labour in the developing world.
And the Daily Telegraph reports how examiners allegedly tipped off teachers about the content of test papers in England.
Bad tidings for some of us as the Daily Telegraph reports on a bumper crop of brussels sprouts. Apparently it has been the perfect year.
The average miniature cabbage is bigger than usual, sweeter than normal and the crop has ripened three weeks early, thanks to a dry spring, summer rains and the recent mild spell. 40,000 tonnes have already been delivered to the supermarkets.
Finally, Matt in the Daily Telegraph has a cartoon about that leak of exam paper contents.
A pupil is leaving the house and saying to his mum: "We've been given the answers, but I still have to remember my name".