Chief medical officer says work needed to improve public's health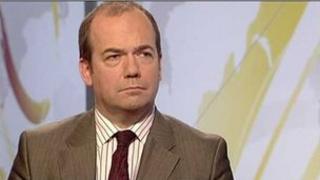 The chief medical officer has said the government and individuals need to do more to improve public health.
Launching his annual report, Dr Michael McBride said too many people in Northern Ireland were dying prematurely.
He said too many people still died too young or live with preventable medical conditions.
Dr McBride said his main priority was to maintain and improve the health of the public.
"The general health of the public is improving and although life expectancy is increasing too many people still die too young or live with conditions that could have been prevented," he said.
"There is still an unacceptable gap in health status between the most and least advantaged in our society. Where you live should not determine how long you live."
"Our Investing for Health Strategy and the various lifestyle strategies which it embraces have made a significant contribution to improvements in health.
'Impact'
"However, if we are to properly address many of the causes of ill health we need to go beyond the health service and work in partnership at all levels across government."
Dr McBride said alcohol misuse and its impact on health in both the short and longer term was an important concern for Northern Ireland.
"I welcome the recent consultation on minimum unit pricing for alcohol," he said.
"This would be a very desirable public health intervention given the clear relationship between price and consumption."
The chief medical officer also highlighted how the introduction of legislation had, in the past, changed behaviour and improved health.
He said consideration should be given to legislation to protect and support breast feeding in public places where children would normally be.
The report which also covers a number of other health issues, can be viewed online.