Owen Paterson says eurozone referendum needed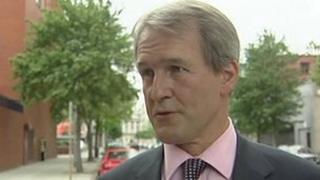 NI Secretary of State Owen Paterson has told The Spectator magazine that if there was a new eurozone bloc created "there will have to be" a referendum.
The Conservative MP was speaking as one of the most important EU summits in recent years begins.
In the interview Mr Paterson was asked if a referendum would be required.
"I think there will have to be one, yes, because I think the pressure would build up," he replied.
"This isn't going to happen immediately because these negotiations are going to take some months. But I think down the road that is inevitable."
A spokesman for Downing Street said any treaty signed by the UK "will need to go through parliament".
It has said that a referendum will not be necessary because the proposed changes would not involve a big shift in power from London to Brussels.
Asked if Mr Paterson's comments made his position untenable, the prime minister's spokesman said no - because the government had a "clear policy" that only treaties which transferred power would result in a referendum
When it comes to the issue of Europe, Mr Paterson is seen on the right of the Conservative Party and his views will not surprise many observers.
In October, Stewart Jackson, who was his parliamentary private secretary voted for a referendum and quit his junior position in government.
The secretary of state's comments come after the Mayor of London Boris Johnson raised the issue of holding a public poll if a new treaty is agreed.
'Bulldog spirit'
The remarks of these two Tory big hitters were published as MPs used Prime Minister's Question-time to put more pressure on Mr Cameron.
Conservative MP Andrew Rosindell urged him to show "bulldog spirit" in the talks between the 27 EU leaders in Brussels taking place on Thursday and Friday.
DUP deputy leader Nigel Dodds raised the issue with Mr Cameron and accused the prime minister of "mis-selling" his EU plans to the public.
Next Tuesday, MPs will another chance to debate European matters when a DUP motion about Europe is put to the house.
Mr Dodds told the BBC that Tuesday's debate would "give parliament a timely opportunity to consider in-depth the outcome of one of the most important EU meetings since the formation of the Common Market".
The wording of the the DUP motion is expected to be made public on Monday.