PSNI goes to court seeking BBC and UTV riot footage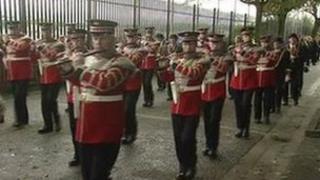 The chief constable of the PSNI has begun a legal application to have the BBC and UTV hand over video recordings of rioting in Londonderry.
The footage relates to disturbances around the time of the Apprentice Boys parade in the city in August.
The contested application under the Police and Criminal Evidence Order is being heard by Judge Piers Grant.
The application applies to broadcast footage and unedited material that was not shown on-air.
A detective sergeant from Strand Road Police Station said the application related to material filmed on the day before and the day of the Apprentice Boys march.
The officer said the footage showed petrol and pipe bomb attacks in the area of Free Derry Corner, Rossville Street and Fahan Street.
She said the police believed the public order offences had been orchestrated and involved at times up to 50 masked persons.
She added that during the disturbances a police officer was struck with a petrol bomb, which did not ignite.
The court heard that police lines were attacked by rioters throwing stones and pieces of masonry. Around 50 petrol bombs and a pipe bomb, which failed to explode, were also thrown at the police.
The detective sergeant said that the police already had their own video and stills material but that she believed gaining access to pictures filmed by the BBC and UTV would have evidential value to the team of investigators looking into the disturbances.