Some Northern Ireland schools miss remedial programme deadline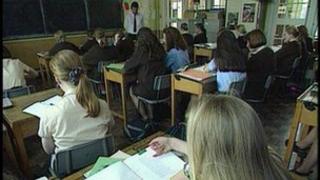 The BBC has learnt that a government plan to allow schools to go through a remedial programme is to be revamped after some schools failed to improve.
The results in a number of secondary schools have actually worsened despite the extra help.
In all, six schools have been in formal intervention for more than 20 months and two for over two years.
Schools are supposed to complete the improvements within two years before more drastic action is taken.
Knockbreda High School has been in what's called "formal intervention" for two years and two months.
It has been getting extra help to recover from a very poor inspection report in October 2009.
However, exam results there have got worse instead of better and education in the school is still described as inadequate.
A new principal started in September and the South Eastern Education Board said progress had been made.
However, they declined requests for an interview.
Support
Education Minister John O'Dowd, said: "There is no doubt that some schools will not get out of formal intervention and then other options will follow such as closure, or a change of leadership, either in the staff or the board of governors."
Lisneal College in Londonderry has received extra help since March 2010 but while science has improved, English results are worse.
Its principal David Funston said science underwent a complete overhaul but English is still trying to improve.
Leadership and management at the school are still described as inadequate, but changes have been made and the school said it has had success stories in some subjects.
Mr Funston said local people see the value of the school.
Gaelscoil na Daroige, an Irish medium school in Derry has been in the remedial programme for two years and has just had a follow-up inspection.
It has not had a written report yet but said inspectors were pleased with progress and it hopes to graduate from "formal intervention" very soon.
From now on any school needing extra help will first be checked to see if it is worth saving and whether it has enough pupils and is not overspending.
The department also sees flaws in the whole system and is about to order a tightening-up of the measures which have been slow to make improvements in so many schools.