Lenient sentences 'hit PSNI morale' - Drew Harris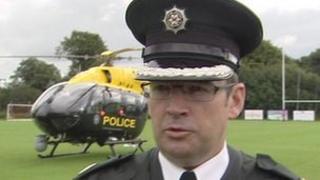 MPs have been told that morale amongst members of the PSNI is damaged when sentences perceived as lenient are given to offenders.
Assistant Chief Constable Drew Harris said there was a difference between sentencing policy in Northern Ireland and the rest of the UK.
He was speaking to members of the NI Affairs Committee.
ACC Harris said when it came to public order offences sentences were often less than those imposed in Britain.
He told MPs that the differences in sentencing does "sap morale".
He added: "It is very discouraging, but at the same time officers will always step forward to do their best."
ACC Harris was giving evidence to MPs who are currently investigating the extent of fuel smuggling in Northern Ireland.
The PSNI assistant chief constable told politicians that those criminals involved in fuel smuggling were more likely to get a suspended sentence.
He said the sentencing does not "reflect the harm that is done". He said smuggling "undermines lawful business activity".
Other the past few weeks MPs have been hearing evidence from police officers, customs officials and representatives of the tobacco and fuel industry on the extent of smuggling in Northern Ireland.
Another witness, Detective Superintendent Roy McComb, told MPs that there were other concerns about the legal process.
'Frustrating process'
Det Supt McComb said there was one case centring on human trafficking which was three years old and would not come to court for months.
He said "what frustrates us is the process before people get sentenced".
Commenting on the PSNI's role, he said "it is the process that is as frustrating as the sentencing".
Back in September, MPs were told that in the past 10 years there have only been four custodial sentences for fuel smuggling or fuel laundering in Northern Ireland.
North Antrim MP Ian Paisley claimed at the time that Customs officials were using 18th century tools to deal with a 21st century problem.
However at the same meeting Mike Norgrove, the director of excise at Revenue and Customs, said his staff were being successful in disrupting smugglers and those laundering fuel.
He said in dealing with cross-border operations the best solution was not always a prosecution.
He said that often illegal plants could be removed with the help of other agencies.
Mr Paisley, who sits on the Northern Ireland Affairs Committee, welcomed the evidence from the two PSNI officers.
He asked them to submit their concerns in writing so that their observations and criticisms could be used to recommend improvements to the judicial process.