Adam's Olympic dream comes true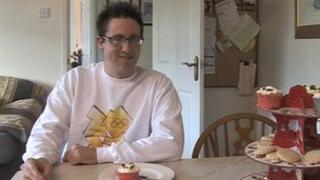 Wouldn't it be great if you went to work one day and came home to be told you were going to be an Olympic torchbearer for 2012?
It's the stuff of dreams but it's one that has come true for 26-year-old Castlerock man, Adam Hayes.
His mother, Dorothy, and dad, Mervyn, nominated him to be one of the chosen few to take history in their hands.
And their praise and admiration for a son who fought for his life eight years ago after contracting a life-threatening illness shone through.
Adam, who is a dispensary assistant at a pharmacy in Coleraine, said when he was first told he had been selected he thought it was a joke.
"Actually, my mum and dad nominated me online a number of months ago through the computer. I took no heed of it and thought they were joking and laughed it off," he said.
"Being picked is just amazing. I found out when someone from the Olympic Committee phoned the house and spoke to my mum.
"My mum then told me someone from the committee had been on the phone and I told her to stop lying.
"But the very next day they phoned again and said I had been selected.
"I am very happy, because I know I'm going to be involved in a historic event and I will never have the chance to take part in anything like this again, so it's a privilege and a honour to be carrying the Olympic torch."
Inspiration
Adam does not yet know the full details of what he will be doing, but he now knows what his mum wrote to make the Olympic Committee believe he was a worthy participant.
In one paragraph she said: "Adam is a shining example of everything which is good in our youth and inspires me beyond what I can truly explain."
The words of a proud mother - but certainly not biased when you discover how meningitis almost claimed his life when he was a teenager.
When Adam was 18 he contracted meningitis septicaemia Type B.
"I was taken into the Causeway Hospital in Coleraine and I was in for 10 days and on life support for two," he said.
"After that, I think I am very lucky to be alive and very lucky not to have lost any limbs. You see people on the news all the time, other families, who have lost loved ones to meningitis."
Since then, Adam has devoted his spare time to raising money and helping his community.
"I've raised a lot of money for meningitis and I've actually been out to Uganda to do charity work," he said.
"When I'm in Castlerock I take the local scout group and play the flute for the local churches and for anyone in the community who wants me to play it, I teach flute and play in the local band."
And there was a little bit of sibling rivalry in the bid to carry the Olympic Torch.
Adam's brother, 24-year-old Christopher, who lives in Liverpool, was also nominated. He is still waiting to hear if he has been successful.
So will he be getting into shape for his big day?
"Of course I will have to start training. But it will have to be after Christmas, after all my festive parties and eating," he said.
"I'll start in January, sure that will be time enough."