"The Rolls Royce of Pensions"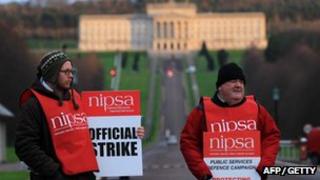 "The Rolls Royce of Pensions" - that's how a trade union leader described the MLA's scheme.
That's because it offers members 1/40th of their final salary - compared to public sector workers who get either 1/60th or 1/80th.
With public sector workers being asked to pay more contributions, and work longer for less, the focus has switched to the politician's pension.
This is because some politicians have been quick to tell public sector workers to be realistic in these austere times.
Bumper Graham of NIPSA said he wanted evidence that politicians mean it when they say "we're all in this together".
His comments came as an Independent Financial Review Panel met at Stormont on Thursday to consider what recommendations, if any, it should make on the assembly member's pension scheme.
The panel has been consulting on pay and is due to issue its first report in February.
Pat McCartan, who chairs the panel, said he is well aware of public feeling.
His other job is chairman of the Belfast Health and Social Care Trust and heard grievances first hand on the picket line.
"I'm very well aware of what's happening in say the health service and in other of the public service like teaching and so on, where from 1 April 2012 many, many people will be asked to pay an additional 3.2%," he said.
Short careers
While this will be taken into account, Mr McCartan said there are other factors, such as ensuring the pay package is attractive enough to draw talented politicians, and that our MLAs don't lose parity with Scotland and Wales.
Already MLAs here are paid substantially less than the Welsh Assembly and Scottish Parliament, but their pension rates are similar.
Some politicians have justified their higher pensions given that their jobs can be short-lived.
Certainly Trevor Lunn, a trustee of the assembly pension scheme, defended the rates on BBC's Talkback programme.
At present, an MLA serving 12 years on a basic salary of around £43,000 could be in line for an annual pension of around £12,900. This compares to a public sector worker who would get £8,600 in pension.
Finance Minister Sammy Wilson, mindful of the pressures on the public purse, said amendments should be made right across the board and that politicians should "absolutely" share the pain.
But auxiliary nurse Maura McKenna, from Belfast, was not impressed and told BBC Newsline that politicians and public sector workers should both share in the pain.
"I don't think Sammy is sharing any pain," she said.
"He needs to come out and see how workers work and what they have to do. Then maybe he'll feel some pain."
Sinn Fein has also backed the notion that MLAs should have a pension that matches public sector workers.
"I think the message going out from us is we have no problem being in line with other public sector workers," said Micky Brady, Sinn Fein MLA for Newry and Armagh.
So what does Pat McCartan think of these messages?
"Delighted to hear it," he said.
"If they would like to come and tell me that, we could no doubt take it into account."
His panel has been privately surveying MLAs for weeks but Mr McCartan said they'd yet to hear this message directly.
The public consultation officially ends on Friday 9 December, but it has said it will consider all views received before Christmas.