UVF Supergrass trial: Judge visits scene of Tommy English murder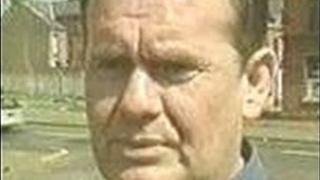 The judge and lawyers in the UVF supergrass trial visited the area around the Newtownabbey home of murdered UDA leader Tommy English on Friday.
The Belfast Crown Court hearing was adjourned to reconvene in New Mossley.
This was where the murder was allegedly planned according to brothers Ian and Robert Stewart.
The judge and lawyers also visited Ballyduff where Mr English was shot dead in October 2000.
The Stewart brothers claim that before the shooting, alleged former north Belfast UVF leader Mark Haddock and another accused, Darren Moore, were driven on a scouting expedition before UVF gunmen were deployed to assassinate Mr English.
It is understood that the purpose behind Friday's visit was to enable the judge and lawyers to familiarise themselves with the loyalist area which has featured heavily in the trial to date.
The Stewart brothers claim that the murder was planned in a flat in New Mossley in retaliation for the shooting of UVF associate Bertie Rice at the height of the then loyalist feud.
Haddock, 41, allegedly ordered the murder of a UDA member.
Meanwhile on Friday, defence QC Arthur Harvey, acting on behalf of Alexander Wood, has continued his cross examination of Ian Stewart, the second of the supergrass brothers to give evidence before the trial.
Stewart and his brother Robert received three-year sentences for involvement in the murder of Mr English.
They are testifying against the 14 men in return for their reduced sentences.
The trial continues.