On the Air featuring Gerry Anderson is back for third series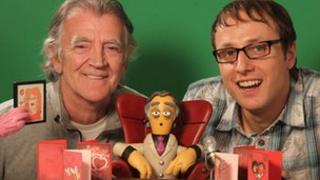 A small but perfectly-formed Gerry Anderson is returning to BBC One Northern Ireland for a third series of On The Air.
The latest run of five animations made by Belfast-based animation company Flickerpix brings the real yet surreal conversations from Gerry's daily BBC Radio Ulster series to life with stop-motion claymation, CGI and 2D animation.
In this new series, the callers and scenarios are even more bizarre and bewildering than before.
Gerry's sidekick Sean Coyle is back and this time he's taking no nonsense from Gerry. Regular caller Geordie has become a walking-encyclopaedia for all things livestock related - of which there are many.
In this series, Gerry's vanity reaches new proportions (did he really get a spray tan?), Sean recalls meeting Beatle George Harrison and Gerry remembers lending Thin Lizzy's Phil Lynott money in a pub toilet.
Both Sean and Gerry take abuse from callers for being anti-social on a cruise and someone with a Christmas turkey who ruled the roost.
Gerry Anderson said he was "absolutely thrilled to be back as a bulbous-eyed, bumbling boozer with a penchant for Llama love".
"And I still only have three fingers - one for each series," he added.
"This time my hair is greyer and there's less of it, which really is the icing on the cake.
"I watch this series and I worry about myself, I really do."
Joel Simon, producer and director of On The Air and Creative Director of Flickerpix Animations said many people had been asking him "when Gerry and company were going to return to the screen".
"I'm really chuffed to absolute bits that we've been able to delve into the huge radio archives to find more bizarre phone calls from all over Northern Ireland, odd-ball requests, high tempers and slightly warped philosophies courtesy of the great Gerry Anderson," he said.
On The Air will be broadcast on BBC One Northern Ireland from Monday 19 December to Friday 23 December at 22:40 GMT.