Titanic Quarter firm £15m profit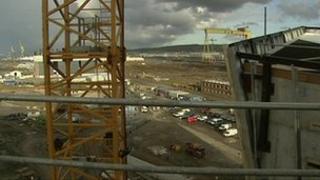 The parent company of the firms developing the Titanic Quarter in Belfast has reported annual pre-tax profits of almost £15m.
Titanic Island Ltd sits at the top of a group of companies including Titanic Quarter, Ivy Wood Properties, Ivy Wood Colleges and Titanic Properties.
Titanic Island is ultimately owned by Titanic Investments, a Jersey-registered firm controlled by developer Pat Doherty and billionaire financier Dermot Desmond.
The accounts, for the year ending December 2010, show Titanic Island has total shareholders funds of £30m.
Titanic Island had a turnover of £61.5m in 2010, similar to the 2009 figure.
A note in the accounts from the firm's auditors said the ability of Titanic Island to continue as a going concern is dependent on the continuing support of Ulster Bank which has made loans of more than £100m.
There is nothing to suggest that Ulster Bank will not continue to support the firm.
Another note in the accounts, which were filed this week, state that 291 units in phase one of the apartment development at Titanic Quarter are occupied. That amounts to 61% of the apartments built.
Further details show that during the year Titanic Quarter Ltd sold, at arms length, 34 apartments to people connected with the firm.
Twenty-one were sold to Mr Desmond's firm IIU Nominees, three to the Duke of Abercorn, three to Ken Campbell, six to Mike Smith and family and one to Conal Harvey.
Last year Titanic Quarter Ltd chief executive Mike Smith told the Belfast Telegraph that about 80% of the 475 of the apartments in the development had been sold off plan.