Policing Board criticised over legal bill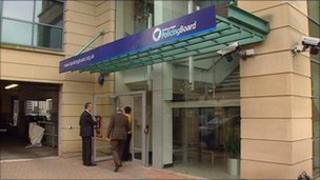 The Policing Board has been criticised for running up a £152,000 legal bill fighting a fair employment case it eventually settled after five years.
The BBC can reveal a review by the Northern Ireland Audit Office raised questions about the cost to the public.
It asked whether the bill was allowed to accrue "without careful consideration and control."
The legal costs incurred by the person who brought the case amounted to £12,000.
The Audit Office told the board "a greater emphasis" could have been placed on value for money considerations and that the documentation it reviewed "did not justify why a senior and junior counsel were required".
It was contacted by Chris Ryder, a journalist, who took a case against the board after he was over-looked for interview when he applied for the post of director of communications in 2003.
In 2008, the board settled his claim for £35,000, having previously challenged his case through the courts.
Together with having to pay his costs, the Policing Board's final bill was £197,000.
The Audit Office found several shortcomings.
They included hiring a barrister suggested by a Policing Board member, rather than the one allocated by the Crown Solicitor's Office, and not alerting the Department of Justice to the high costs at an earlier stage.
On learning what the investigation uncovered, the Public Accounts Committee at Stormont wrote to the board stating it was "alarmed" that the rationale for key decisions, including appointment of counsel, was not well documented.
A Policing Board committee discussed the findings on Friday, stating afterwards it was to establish a new protocol for managing legal costs.
DUP board member David McIlveen said: "We have to accept something has gone wrong here.
"We have to be very careful and not forget about the taxpayer."
You can see more on this story on BBC Newsline at 18:30 GMT on BBC One NI.