Man is jailed over planning fine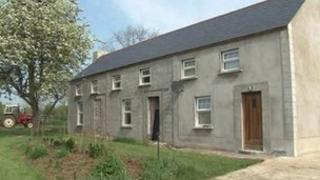 A County Tyrone man has been sent to jail for a year for not paying a planning fine.
Fergal O'Neill converted an outbuilding on his land in Ardboe without planning permission. The Planning Service declared the building an unauthorised dwelling and ordered it to be removed.
Mr O'Neill was fined £15,000 for failing to comply with that notice.
It is believed to be the first time someone in NI has been jailed for non-payment of a planning compliance fine.
The building in question was once a WWII auxiliary barracks building that housed soldiers while they worked at a local airfield.
Mr O'Neill is in the process of converting the building into three terraced houses. One is complete, with the other two still in progress.
He appealed the £15,000 but was unsuccessful.
The jail term will wipe out the fine, but the notice to demolish the building will still be in place when Mr O'Neill is released
It is believed he will appeal his custodial sentence and the case is due to be heard in January.
It is not the first time a building on the site has been subject to a demolition order. An outbuilding has had to be removed and a barn is also facing possible demolition.