BBC NI show pays tribute to Folks on the Hill's Sean Crummey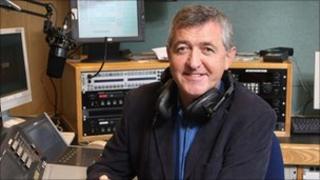 BBC Northern Ireland will pay tribute to impressionist and comedian Sean Crummey, the voice behind The Folks On The Hill, in a special programme next week.
For 10 years Sean gave a fresh and humorous perspective to political life in Northern Ireland and beyond through the comedy series.
It lampooned the worlds of politics and celebrity on both BBC Radio Ulster and BBC NI television, providing a surreal parallel universe for many politicians and personalities.
For the series' duration Sean provided all the voices, alongside female impressionist Kathy Clugston.
Sadly, on Sunday 13 November, Sean passed away following an illness.
Sean Crummey: The Voice On The Hill, on BBC One Northern Ireland this Tuesday at 22:35 GMT will pay tribute to Sean's career and his time on The Folks On The Hill.
The programme will feature some of the best clips from the animated television series which covered countless political and social changes over its run.
It will also feature Sean's friends such as John Linehan, Tim McGarry and broadcaster Gerry Kelly and many of the politicians from up on 'the hill' who were on the receiving end of Sean's humour, including Jeffrey Donaldson, Ian Paisley Junior, David Ford, Michael McGimpsey and Gerry Kelly.
Mike Edgar, head of entertainment and events at BBC NI and executive producer of the programme, said Sean was "one of the most decent, likeable and gifted people" he had the pleasure of working with.
"He was not only a great mimic who could rival the likes of Alistair McGowan and John Culshaw, but importantly, he was also an extremely gifted writer with razor-like wit and insight," he added.
"Most comedy shows do well to survive one season or even a year - therefore the fact that Sean delivered a hugely successful and popular programme with The Folks On The Hill for over 10 years is a massive testament to the talent that he was.
"We will miss him dearly and I hope that as many people as possible take the opportunity to watch this programme, where many of Sean's friends and indeed those he successfully lampooned reflect with great affection on the man who gave us so many laughs."