Northern Ireland Assembly debates David Cameron EU veto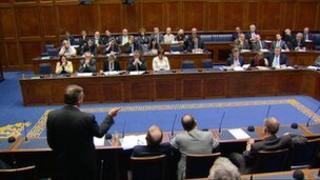 The SDLP and Alliance have criticised David Cameron for not consulting UK devolved governments before using his veto at last week's European summit.
However unionist politicians congratulated the prime minister for refusing to surrender British sovereignty to Europe
Mr Cameron was the only one of 27 leaders to block the new EU agreement.
His action was discussed during a short debate at the Northern Ireland Assembly on Monday.
The SDLP's Margaret Ritchie accused David Cameron of being disrespectful towards the devolved regions, whilst the Alliance Party's Chris Lyttle shared her concerns about what he called the "hasty" use of the veto.
However, the DUP's Gregory Campbell and Ulster Unionist leader Tom Elliott backed the prime minister, while TUV leader Jim Allister said it was refreshing to see Mr Cameron say no to Europe.
Sinn Fein's Mitchel McLaughlin also feared the loss of national sovereignty, but refused to join what he called the "obsequious endorsement" of Mr Cameron by the unionists.
Congratulations
Meanwhile, the DUP MP Nigel Dodds is to introduce a motion in the Commons congratulating Mr Cameron and calling for the UK to claw back powers from Europe.
Mr Dodds said the prime minister did the right thing when he vetoed agreement in the European Union.
However, Environment Minister Alex Attwood of the SDLP wants political leaders to challenge Mr Cameron's move.
Mr Attwood said the prime minister's decision could have major implications for the devolved administrations.
Speaking on the BBC's Good Morning Ulster programme on Monday, Mr Dodds said: "Now we have a situation where, for instance, the Irish Republic has been told, you are only going to borrow so much and you might have to do away with your corporation tax.
"I don't think in the long run that kind of approach, one size fits all in Europe, is going to actually lead to the kind of growth economically that all countries need in order to make their economies prosperous and work well."
Mr Attwood argued that the prime minister's move could affect relationships with important European markets.
"The decision of the prime minister has fundamental and far reaching consequences for people in the north and our government must recognise that," he said.
"That is why I am writing to the first and deputy first ministers urging that they speak with their counterparts in Scotland and Wales to convene an urgent meeting with the prime minister to work through the consequences of his decision.
"David Cameron must account for his conduct and his decision, not just in London, but to administrations in Belfast, Edinburgh and Cardiff."