Priest pays tribute to Crossmaglen murder victim James Hughes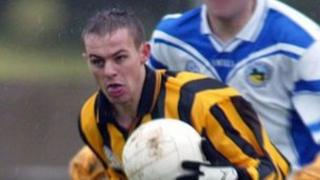 A County Armagh priest has spoken of the "legendary kindness" of James Hughes who was murdered in County Louth at the weekend.
Mr Hughes, 35, who played for the Crossmaglen Rangers senior Gaelic football team, was shot dead in Dundalk in the early hours of Sunday morning.
A 32-year-old man later presented himself at Carrickmacross Garda station, where he was arrested.
Fr Joe McKeever said Mr Hughes did not deserve his violent death.
"James was hugely well-known because he was a very personable, friendly and sociable member of our community and James's legendary kindness to people has compounded the shock and grief that the community greeted this news with," he said.
Mr Hughes was killed after a man approached a taxi outside a house in the Cluain Ard in Lis Na Dara estate shortly after 04:00 GMT and fired a number of shots into the car.
The 48-year-old man driving the car and a 21-year-old woman were injured in the incident. They were taken to hospital but their injuries are not believed to be life-threatening.
Sinn Fein Crossmaglen councillor Terry Hearty knew Mr Hughes.
"This is a terrible tragedy to befall the Hughes family who also lost their mother suddenly earlier in the year," he said.
"James was an extremely well-known and popular young man and devoted father.
"He was involved in the local community through his lifelong association with Crossmaglen Rangers and he was a familiar face around the town with many many friends.
"I called to the family home on hearing the news and they are understandably shocked and devastated by this."
Mr Hughes had won a number of All-Ireland club medals with Crossmaglen Rangers.
SDLP councillor Geraldine Donnelly said it was not unusual for people from Crossmaglen to socialise in towns across the Irish border.
"Speaking to a family member, I think he had just travelled to Dundalk as hundreds of people do," she said.
"Dundalk is only a 15-minute drive from Crossmaglen so it is not surprising that he was in Dundalk, it is horrific to think that he died such a violent death."
Irish police are continuing to investigate the motive behind the attack.