Stolen Garda car abandoned across border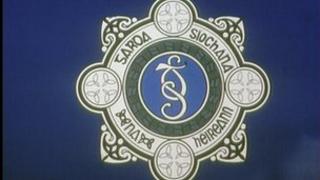 Irish police are searching for a man who stole a police car and drove it across the border into Northern Ireland.
The car was stolen on Sunday night after the man was arrested for drink-driving in County Dublin.
It was later found abandoned at Hilltown in County Down. The PSNI is assisting with the investigation.
Gardai have said they believe they know the identity of the man and are confident of apprehending him.
The man was stopped by two gardai driving near Lusk, County Dublin at 21:30 GMT on Sunday night.
He was arrested on suspicion of drink-driving and placed in the garda car.
However, he managed to get into the driver's seat and steal the car.
He then drove it through the toll bridge outside Drogheda and across the border before abandoning it in Hilltown.