Report finds pupils saw previous test paper before exam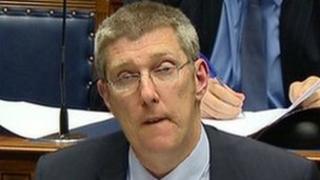 A report into a alleged breach of security over the school transfer-test procedure has found that a 2009 transfer paper was seen by some pupils before the 2010 exam.
However the Education Minister John O'Dowd said that this did not lead to any unfair advantage.
The allegation was first made by the Catholic Principals' Association.
A claim that the 2009 test was leaked could not be investigated because those involved wanted to remain anonymous.
The GL assessment test is used mainly by pupils seeking a place in Catholic grammar schools.
The education minister said that because so much practice material is on the market, the use of the 2009 paper before the 2010 is unlikely to have been significant.
He said that the episode showed the inherent difficulties in making sure the tests were secure and said that the system was only as strong as its weakest link.
Advantage
However, the Catholic Principals' Association (CPA), which represents most Catholic primary and secondary schools, said that the fact that some children had seen the 2009 paper means that it should now be made available for all pupils preparing to do the GL assessment test.
Fintan Murphy from the CPA said: "While the investigation has concluded that it is unlikely that children who saw the tests had an advantage over those who did not, it is possible that they did gain some advantage.
"There is little evidence from the report to suggest that significant changes have been made to the security arrangements and therefore the potential for a further breach remains.
"CPA would again call for the end to the use of any such tests as part of the transfer from primary to post-primary school."
In a statement GL Assessment said that the questions used in the 2010 transfer tests were different from those used in the 2009 exams.
"The Department found no weakness in how GL Assessment has maintained the security of its assessments in the past or will seek to maintain their security in the future," they said.
"GL Assessment is therefore confident that no child was unfairly advantaged as a result of the breach and that all results issued to date are fair and accurate."