NI 'Tesco tax' extended to hit big business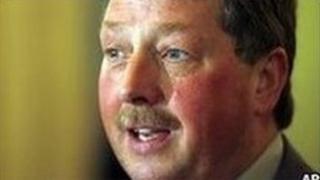 All big businesses in Northern Ireland may have to pay an extra levy to fund the Small Business Rate Relief Scheme.
Under new proposals, banking and finance, telecommunications companies such as BT, large hotel groups and utility companies would have to pay.
NI Finance Minister Sammy Wilson's original plan was to charge only large retailers the extra tax.
The Northern Ireland Assembly Finance Committee, however, has suggested extending the scheme.
Members have been hearing evidence from retailers over recent weeks about how the plans would affect them.
Ikea said that they already trade at a loss in Belfast, while TK Maxx said that introducing the tax would make them reconsider their position in Northern Ireland.
Spread burden
Tesco said it could affect potential investment of £100m.
After studying the feedback, the finance committee decided to spread the burden across different sectors for a limited three-year period.
The Federation of Small Business and the Northern Ireland Independent Retail Trade Association support the idea which could potentially put more money in the pot to help give small businesses rates relief.
NI Retail Consortium members are also pleased because they will not take such a big hit and they feel that the committee listened to their concerns.
Others are not so happy about the plans.
Janice Gault from Northern Ireland's Hotel Federation said she was "very concerned with the way it's being suddenly landed on us".
Concerned
It is likely that the Hilton Hotel and the Europa Hotel in Belfast would be large enough to have to pay this tax.
However, Ms Gault is concerned that once introduced, the bar could be lowered.
"Our concern is that at the end of the three-year period, the ceiling may be dropped and that this scheme would be ingrained into business as standard," she said.
There are also concerns that if utility companies faced this extra charge they would pass the cost onto customers, making gas and electricity more expensive.
However, the chair of the finance committee, Conor Murphy, defended the plans.
Although he acknowledged that business was difficult for everyone at the moment, he said the idea was introduced to "see where those who weren't doing so badly could perhaps make a contribution".
The decision about whether or not to implement the committee's suggestion now lies with Mr Wilson.
There is more on this story on the NI Business News podcast on http://www.bbc.co.uk/podcasts/series/nibusiness