Irish history and literary gems up for auction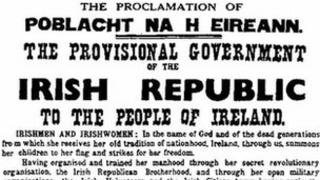 Got a budding historian or lover of literature to buy for this Christmas? Stumped as to what to get them? Well a trip to a Dublin auction this week could well be the answer to your prayers.
Well, depending on how far your budget stretches.
For those of you with deep pockets, or a spare 50,000 euros (£42,000) lying about, there is an original copy of the 1916 Proclamation up for grabs.
During Easter week in 1916 the copy was posted in North King Street, just beside the Four Courts in Dublin.
Removed by a volunteer called Murty Tubridy, it is thought to be one of only 40 or 50 which have survived to the present day.
There are also hundreds of books and manuscripts on sale during the two-day auction at Mealys.
Fans of William Butler Yeats could snap up first editions of some of his work from 180 euros (£154).
However, rare first editions of his second book 'The Wanderings of Oisin and Other Poems' and third book 'John Sherman and Dhoya' could go for as much as 1,000 euros (£855) or possibly more.
A first English edition of Ulysses, by James Joyce, has a heftier lower guide price of 2,000 euros (£1,700).
'Romantic figure'
If the copy of the 1916 Proclamation was a touch too expensive, those interested in that period of Irish history could be tempted by a letter, believed to have been written in 1923, from Lady Hazel Lavery to General Beaslai, lavishing praise on Michael Collins.
The second wife of painter Sir John Lavery, it is said she became a close friend of Collins during the Treaty negotiations in London in 1921.
Apparently distraught after his death in 1922, Lady Lavery contacted General Beaslei who was writing a biography of Collins.
In the letter she spoke of his "gay courage and brilliancy as a romantic figure", referring to a man with a "a wonderful beauty of character and qualities of statesmanship that only a few had begun to recognise".
Rumours of an affair between Lady Lavery and Michael Collins have never been substantiated.
The letter is estimated to reach between 1,250 and 1,750 euros (£1,000 to £1,500).
As the centenary of the sinking of the Titanic approaches more and more memorabilia attached to the ocean liner, and the company that built her, is making its way to auction houses.
Harland and Wolff's original Minute Book, beginning as the Queen's Island Shipbuilding and Engineering Company in 1886, including manuscript annual reports with details of engineering developments and ships built has been unearthed.
As has the company's original Register of Shareholders 1908 - 1926. The guide price to the two volumes, to be sold together, is 7,000 to 9,000 euros (£6,000 to £7,700).
Perhaps the most poignant of the Titanic lots is a photograph of Margaret Norton Rice, from Athlone, and her five children, all of whom died when the liner sank in April, 1912.
Emigrating to America to live in Washington, she boarded at Queenstown with her five sons. It is believed this photograph was taken in Cork before they embarked.
Passengers in third class, the family had little chance of reaching the life boats on the upper decks.
Margaret's body was recovered afterwards by a cable-laying ship and identified through a box of pills purchased at an Athlone pharmacy. Her children were not identified among the recovered bodies.
The picture has an estimated value of 1,000 (£855).
The auction takes place at the D4 Berkeley Court Hotel in Dublin on 13 and 14 December.