Edwin Poots considers bringing back prescription charges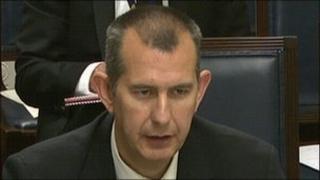 Northern Ireland's health minister has said he is seriously considering reintroducing prescription charges to help pay for life-saving drugs.
Edwin Poots told the NI Assembly he would probably put the issue out to consultation some time in the new year.
He said the extra money would help fund clinically approved drugs for cancer and other debilitating diseases.
Prescription charges were abolished in April 2010 under the former health minister, Michael McGimpsey.
Speaking in the assembly on Monday, Mr Poots said: "These drugs will need to be paid for in future years and that is the reality which we face and in this context I'm considering a range of options how this might be done, including the potential reintroduction of some prescription charges.
"Such a decision would of course be subject to public consultation."
In October, Mr Poots told the BBC that the cost of free prescriptions in Northern Ireland was closer to £30m per year than the £13m originally envisaged.
He said members of the public could be charged as little as 50p per prescription and the move would still generate millions of pounds.