Accused ex-priest James Donaghy 'abused position'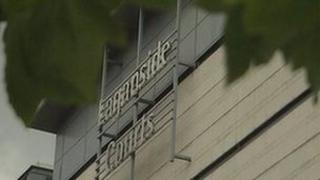 A former priest abused his position in order to facilitate the sexual molestation of his three alleged victims, a lawyer has told a court.
James Donaghy, 53, from Lady Wallace Drive in Lisburn, denies a total of 26 sex abuse charges.
They relate to three males between June 1983 and December 2000.
In her closing speech to the Belfast Crown Court jury, prosecuting lawyer Amanda Brady argued there was a "common theme" to what Mr Donaghy had done.
"This defendant abused his position as a priest, he abused the trust that people had in him and he used his age and superior physical strength to dominate these young men physically and to dominate them mentally and used his position to force them into taking part in the sexual acts against their will," she declared.
Ms Brady said that three people between whom there was no discernible connection, had come forward to make allegations against the accused.
"What are the chances of three people coming forward and making up allegations against this man, allegations that are very similar to the offences in each case," she asked the jury, adding that when Mr Donaghy himself was asked, "he couldn't really think of a reason".
She said that among the common themes were the facts that all three were younger than the accused, all had alleged inappropriate touching, all had claimed that a naked Mr Donaghy had "jumped into bed with them," all of the alleged abuse was connected to religion and had happened on church property.
'Consensual activity'
Defence QC Eugene Grant began his speech by telling the jury that credibility was the "key issue" in the case, but that one common feature to all three alleged victims was "the incredibility and their perjury to you and to this court".
He argued that in relation to the allegations made by Father Patrick McCafferty and James Doherty, the jury had to be satisfied to the necessary high standard that the incidents, if there were any, were actual attacks or assaults and not consensual sexual activity between adults.
"If you find that there's at the very least a reasonable doubt, that these men are lying to you about the nature of the liaisons... that's the end of the matter," said the lawyer.
In relation to Fr McCafferty, Mr Grant asked the jury why, on his own account, did he keep going back to Mr Donaghy despite the "horrendous" bouts of abuse he allegedly subjected him to.
Turning to Mr Doherty, the lawyer argued that his motivation was money and that again, any sexual contact if there were any, was consensual.
"Why would you not run?" he asked the jury. "Why would you not do something? That's the key," he said.
"They're of legal adult age. I'm no moralist, I don't care what adults do consensually, I don't care about that, that's not a crime, but the question is would that constitute an attack and my urgent plea is that none of them can remotely end up as an attack because he was a consenting adult at all times," declared Mr Grant.
He further argued that the last alleged victim, a 29-year-old former altar boy, also lacked enough credibility for the jury to safely rely on his allegations.
Mr Grant asked the jury "how could you believe" any of his allegations given the fact that he went on numerous foreign trips with the accused, kept in "friendly" contact with him for nearly 20 years and socialised with him many times.
On Tuesday Judge Patrick Lynch QC will "charge" the jury before they retire to consider their verdicts.