RUTH helps those sleeping rough in Belfast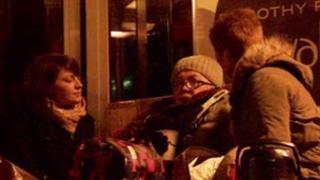 Joanne Gibson bangs shut the boot of her car, parked near Belfast's Great Victoria Street.
For the last few minutes she and her friends have been filling their rucksacks with sleeping bags, scarves and woolly hats.
There are bags of food, flasks of hot tea and coffee.
They turn and walk into the darkness, heads bowed against the strong wind, looking for people, who have nowhere to sleep.
Their group is called RUTH, Raising Up The Homeless. They are volunteers, members of churches in the Richhill area of County Armagh.
Twice a week they drive up to Belfast after work, and see if there is anyone whom they can help.
Tonight they are braving the last few hours of one of the biggest gales of the winter so far. It is not especially cold, but it feels it.
Charities helping the homeless in Northern Ireland all say they have noticed an increase in the number of people coming to them for help. Most say it's simply a sign of the times.
Sleeping bag
Before long we are at a city centre arcade, a busy shortcut between department stores. Joanne's colleagues have come across a man sleeping rough.
He has been unable to get a space in any of the hostels - he's cold, and with arthritis weakening his legs, unable to move to a better, more sheltered spot.
Joanne knows they can't do much - except offer food and clothing, and just stay for a while. She talks of a homeless man who once told her a smile is "worth a million pounds".
Someone flags down a PSNI landrover, and the officers inside agree to try to find the man a bed in one of the hostels. No one wants to think about what they will do if they fail.
Across the city, Gary Booth is checking his possessions before searching for a hostel bed. He knows the usual places where he ought to be lucky. But sometimes he is too late, and then he has to get his sleeping bag out.
He has been homeless on and off for 21 years, and says he is used to it. But it doesn't mean he likes it. A few minutes later he is knocking on the door of one of the hostels, waiting for an answer.
Nearby we chat to Stephen Finn, who has hopes of a bed in a hostel a mile away in the Botanic Avenue area. But he can't be sure. If he is unlucky, he'll have to sleep out.
"You get people coming over and kicking you when you're sleeping, calling you names," explained Stephen.
"That could be anybody," he added. "That could be them. But unfortunately it's not them, it's me, and all the other ones who live out on the streets."
As Joanne and her friends look for more people to help, Gary and Stephen set off in different directions hoping the walk will be worth their while.