Young Apprentice: Derry teen James McCullagh misses out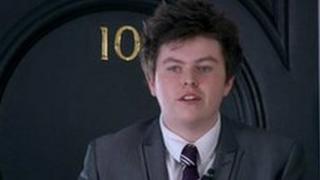 County Londonderry teenager James McCullagh has lost out on winning the Young Apprentice 2011 title.
He was beaten in Monday night's final by 16-year-old Zara Brownless.
As well as the title, Zara will now get a £25,000 fund which will go towards kick-starting her business career.
The pair went head-to-head on the final BBC programme of the series in a challenge to devise and develop an online computer game and accompanying viral advert.
James went for a game called 'Crazy Cabinet' which allowed players to pretend to be prime minister in a time management challenge.
Eventual winner Zara developed 'Piggy Panic' in which the main character Porky Pete tries to escape from a butcher.
Lord Alan Sugar paid tribute to James' efforts all through the eight weeks of competition.
"James was a very worthy finalist and a great salesman throughout the process," said Lord Sugar.
"The world of business is his oyster."
But he also praised the worthy winner.
"It was a hugely tough decision but Zara really showed wisdom and clarity far beyond her years," said Lord Sugar.
"I look forward to seeing her develop her film company into a hugely successful business."
Speaking after her win, Zara said: "To say this is a dream come true doesn't even come close - I've loved the whole Young Apprentice experience and taken so much from it, and now I'm so excited about what the future holds for my business career."