FBI helped return Sam Maguire cup which went missing in New York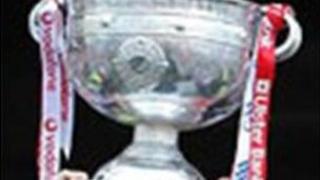 The story of how the FBI helped recover the Sam Maguire cup when it was taken from a safe in the US has been recalled in a new book by the Irish Arts Minister Jimmy Deenihan.
In the publication, My Sporting Life, Mr Deenihan explains how he was asked to bring gaelic football's all-Ireland cup to New York in 1981 to have it photographed with the World Series baseball trophy and american football's Superbowl prize.
Despite his qualms, he was eventually persuaded to bring it to Gaelic Park in the Bronx where it was stored in a safe while players from the Feale Rangers team socialised.
After a match between Feale and Ardboe of Tyrone the next day, the former Kerry player requested the return of the Sam Maguire.
"I went into the bar in Gaelic Park to collect the cup only to be told by the caretaker that it had been taken from the safe by someone unknown to him that morning," he said.
Mr Deenihan said that the cup was only reclaimed after the intervention of an FBI officer.
"When I called to Gaelic Park the following morning at 11am, the Sam Maguire was in the bar wrapped in a black plastic refuse bag."
Mr Deenihan had lifted the Sam Maguire cup as Kerry captain in 1981 when the team secured their fourth successive triumph in the competition with a win over Offaly.
He played in six all-Ireland finals in total, winning five medals.