Belfast chosen by government for potential new TV station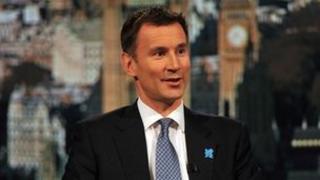 Belfast could get a new television station within two years.
The government has said that 20 towns and cities across the UK could get new television services to provide news, current affairs and entertainment.
They aim to create a series of "commercially viable" stations carrying locally-made programmes and news across the UK.
The announcement of the new services was made by the Culture Secretary Jeremy Hunt.
The first areas to possibly get the new stations are Belfast, Birmingham, Brighton and Hove, Bristol, Cardiff, Edinburgh, Glasgow, Grimsby, Leeds, Liverpool, London, Manchester, Newcastle, Norwich, Nottingham, Oxford, Plymouth, Preston, Southampton and Swansea.
A further 24 areas have also been identified for a future round of licensing, including Londonderry and Limavady.
Jeremy Hunt said: "I am confident these new stations will provide local communities with programming which is relevant to their daily lives, will support local democracy, boost the big society and enhance local communities."
The first new stations could be broadcasting in 2013, following the awarding of licences during summer 2012.
As part of the licence fee settlement in October 2010, the BBC agreed to provide funding of up to £25m for local television services and an additional £15m to acquire local television content.
The final determination on the BBC's contribution will be subject to approval from the BBC Trust.