BBC takes stock of the UK economy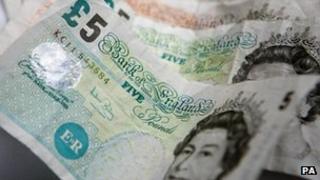 The end of the year is always a good moment to take stock of your finances.
This week, a number of significant figures are released which act as a marking flag, not only to highlight where we are now, but to point us to how the economy will weather the coming year.
To reflect that, BBC News teams across the UK are running a series of pieces taking stock of the economy.
On Tuesday, the inflation figures were down a little.
The Consumer Price Index fell to 4.8% in November from 5.0% in October. The Retail Price Index which includes mortgage repayments in its calculation of how much things cost also fell to 5.2% in November from 5.4% in October.
That's the good news that a lot of people had been waiting for.
Households have really been feeling the squeeze as each shopping trip seems to get more expensive.
It has been tough for businesses too, who are having to cut any excess spending.
So a drop in inflation is good news for consumers, and that's exactly what the chief economist at the Bank of England was hoping for.
Spencer Dale visited Northern Ireland last month to see how the bank's policies affect businesses on the ground.
He told me on the Good Morning Ulster programme that the bank was sticking by its policy of keeping interest rates low, in the hope that the inflation rate would fall soon. His wish has come true.
Wednesday sees the publication of the unemployment figures for November.
Shoppers
The last lot of figures brought the total number of people claiming unemployment benefit in Northern Ireland to almost 61,000, and of course that doesn't reflect those who have part-time or temporary work but aren't claiming any benefits.
At BBC Northern Ireland we'll be looking at the number of well qualified and experienced people who are leaving these shores in search of work elsewhere.
On Thursday, the Retail Sales Figures will be published.
Coming right after Mary Portas' report into the state of our high streets, we'll see how shops, both in and out of towns are managing to attract bargain hunting shoppers.
For more business news subscribe to the NI Business News podcast on http://www.bbc.co.uk/podcasts/series/nibusiness