Joe Rice cleared of victimisation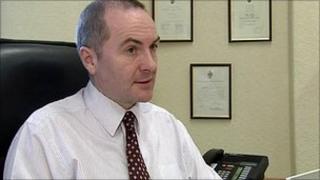 A prominent solicitor has been cleared of victimising a partner at his firm by a fresh industrial tribunal hearing.
At the original tribunal in October 2010, Joe Rice was found to have victimised Yvonne McEvoy and was ordered to pay her more than £11,000.
However the Court of Appeal later quashed that decision and ordered a fresh hearing.
That hearing has now found for Mr Rice, accepting Mrs McEvoy was not discriminated against or victimised.
She had claimed she was victimised when she received only the minimum statutory sick pay when she became ill in 2009.
She said it followed a dispute between her and Mr Rice when she was asked to do more criminal law work.
The tribunal found that the firm's sick pay policy was full pay for the first week of absence and thereafter statutory sick pay.
Mrs McEvoy believed she should have received full pay for the first three months of her sickness.
However the tribunal found no evidence of that.
Its ruling stated: "There is no basis on which a tribunal could conclude that the claimant had, as she continued to maintain in this hearing, a contractual right to be paid sick pay for three months, or even that there was a prima facie case that such a contractual right had existed."