Massereene: Brian Shivers' girlfriend testifies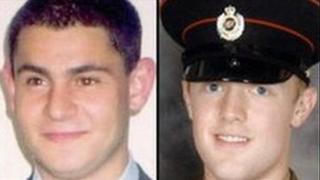 The partner of one of the men accused of murdering two soldiers at Massereene barracks in 2009 has been testifying.
Colin Duffy and Brian Shivers deny murdering Sappers Patrick Azimkar and Mark Quinsey in 2009.
Mr Shivers' girlfriend told the court that when the couple learned of the attack the day after the shootings they were "disgusted and appalled".
The court heard how Lisa Leacock told police: "The Brian I know is not capable of these terrible acts."
She said she believed Mr Shivers had been at a work leaving do in Belfast on the night of the shooting, and had arrived home early.
Ms Leacock said she had not noticed anything abnormal or suspicious about his behaviour.
She said she couldn't be 100% sure of the time of his arrival home, but she believed it to be between 21:55 GMT and 22:10 GMT.
However, a prosecution barrister questioned her about why she had not told the police that.
Ms Leacock said she extended the time to 22:20 GMT after police read a statement to her.
She said: "I took it that if I wasn't accurate I could be prosecuted."
Ms Leacock, a Protestant, who has been dating the accused for around six years, said she and a cousin had received bullets in the post after Mr Shivers' arrest.
She was asked: "If Brian confessed to you that he'd been involved in the Massereene attack would you tell police?"
"Yes" she replied "I absolutely would, because it's wrong, it's murder."
The two soldiers were shot dead as they collected pizzas outside the base in Antrim in March 2009, the night before they were due to leave for Afghanistan.
As well as the murder charges, Mr Duffy, 44, from Lurgan and Magherafelt man Mr Shivers, 46, both deny six charges of attempted murder and one of possession of guns and explosives.
The trial continues.