NI car insurance 11% more than GB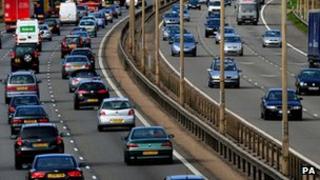 The cost of car insurance is 11% higher in Northern Ireland than in the rest of the United Kingdom, the Office of Fair Trading (OFT) has found.
Their report also showed that in 2010, people in rural areas paid between 30% and 70% more, compared to consumers in rural areas of Great Britain.
The Consumer Council said the Assembly needed to take action.
"High premiums put rural consumers at a huge disadvantage," said Antoinette McKeown of the Consumer Council.
"It can often exclude them socially and economically.
"The rural nature of NI means many thousands of people are dependent on their car to take jobs, attend college and visit family and friends."
The OFT also received evidence that suggests there are higher personal injury compensation levels and higher legal costs associated with claims in Northern Ireland, as well as more frequent accidents.
Graham Tredgill from the British Insurance Brokers Association said high premiums were primarily caused by the legal system.
"So many more cases end up in court in Northern Ireland," he said.
"And the rewards for certain things are higher than in Great Britain. If you lose an eye that cost could be £30,000 to £40,000 in Great Britain, but in Northern Ireland it could be £65,000 to £90,000.
"That's why we feel there has to be a review of the system."
Rory McShane from the Law Society said it was wrong to assume compensation levels in Northern Ireland were wrong.
"What's wrong with maximising the compensation for a victim of an accident?" he said.
"Why is it taken because that compensation levels for victims of an accident are much lower than in Northern Ireland that this is right?
"There are reports in the UK which state that compensation levels have not kept pace with inflation."
Mr McShane also refuted the argument that solicitors costs were higher in Northern Ireland.
"The report makes it clear that that is not the case," he said.
"It says the settlement takes place much later than in Great Britain and I think the Law Society would be happy to take a look at that and see if the process can be speeded up."
However, the OFT did say that the higher premiums paid were partly due to the fact consumers in Northern Ireland were less likely to shop around for car insurance.
Only 55% of consumers in Northern Ireland compare quotes, while in Great Britain 73% of consumers do.