Unemployment benefit claims up but jobless rate falls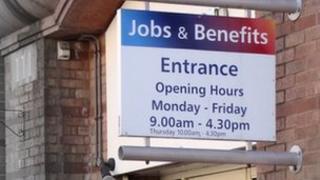 New figures show the general level of unemployment here has fallen but the number of people actually claiming unemployment benefit has gone up.
The number of people claiming unemployment benefit in Northern Ireland increased by 300 in November.
However, the Labour Force Survey of unemployment shows that the overall jobless rate here has fallen during the period from August to October 2011.
The jobless rate fell from 7.4% to 6.9% which is below the UK average of 8.3%.
The number of people claiming unemployment-related benefits is up by 300. The total now stands at 60,900 in November 2011.
This latest monthly increase in those claiming unemployment benefits in Northern Ireland was 0.5% which was higher than the monthly rise of 0.2% in the UK as a whole.
Over the past 12 months an additional 2,600 people have claimed unemployment benefit here, but that is the lowest annual increase among the twelve UK regions.
Economic inactivity
The Labour Force Survey indicates that 38.4% of those unemployed in Northern Ireland have been unemployed for one year or more.
The survey also records the unemployment rate for 18-24 year olds at 18.2%, meaning almost one-in-five people in that age-range are out of work.
The Labour Force Survey questions a certain number of people every month on their employment status, and is the most widely used by labour-market economists as it allows international comparisons.
The figures also show that Northern Ireland continues to have the highest level of economic inactivity in the UK.
The NI economic inactivity rate for those aged 16-64 stands at 26.9%, significantly higher than the UK average rate (23.2%).
The Enterprise Minister Arlene Foster welcomed the fall in the unemployment rate.
"Private sector jobs have now increased in two of the last three quarters, after a prolonged period of decline," she said.
"While this increase is not particularly marked, the change in direction is welcome.
"There remains considerable uncertainty in European and global markets, but a strategy that seeks to grow the private sector remains the best way forward."