Outdoor gym scheme aims to promote healthy Belfast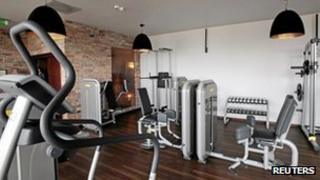 A number of outdoor gyms are to be built in Belfast in a bid to promote good health.
The gyms will include modern sit-up benches, cross-trainers and agility benches.
Sites at Woodvale Park and Blythefield in the Sandy Row area have already been agreed and it is hoped work will begin in April.
Seven other sites in Belfast will be presented to Belfast City Council for approval in January.
The scheme, which is already in operation in some European countries, will be on the agenda at an "Active Belfast" conference at the Grove Wellbeing Centre on Thursday.
Funding for the gyms has been provided by the council, the Public Health Agency and the Belfast Health Development Unit.
Belfast City Council chief executive Peter McNaney said: "Active Belfast is a wide-ranging and innovative programme of work to improve the activity levels, health and quality of life for all residents of Belfast, regardless of their age, gender, culture or ability.
"Life inequalities in the city continue to widen and research tells us that leading a more active lifestyle can help to reduce the risk of developing certain diseases and improve our feelings of mental wellbeing."