Historic Titanic company minute book bought at auction by H&W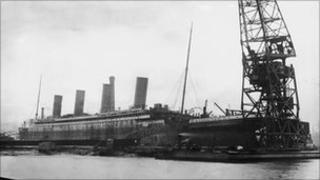 The Belfast shipbuilding company Harland and Wolff, which built the Titanic, has bought back its original Minute Book for an undisclosed sum.
The item was just one lot that went under the hammer at an auction of rare books and historical memorabilia in Dublin this afternoon.
The Harland and Wolff manuscript included the 1911 director's register which listed Thomas Andrews as the company director.
His name did not occur in the 1912 list, as he went down with the Titanic in April 1912.
A 100-year-old photograph of a widowed Irish mother, Margaret Rice from County Westmeath, and her five young sons who also perished in the Titanic disaster, was sold for 2,200 euros.
Margaret Rice boarded at Queenstown with her sons and it is believed the photograph was taken in Cork, possibly as a keepsake for relatives before they departed for what they hoped would be a better life in America.
The portrait was reluctantly sold by a descendant still living in County Westmeath.
"The photograph sold well in excess of its guide price" said auctioneer George Mealy.
"I'd advise anyone who thinks they may have Titanic memorabilia to root them out of the attic and dust them off ahead of the Titanic centenary next year."
An original copy of the 1916 Proclamation sold for for 55,000 euros.
The copy was posted in North King Street, just beside the Four Courts in Dublin during Easter week in 1916.
Removed by a volunteer called Murty Tubridy, it is thought to be one of only 40 or 50 which have survived to the present day.
And a letter, believed to have been written in 1923, from Lady Hazel Lavery to General Beaslai, lavishing praise on Michael Collins, estimated to reach between 1,250 and 1,750, was sold for 2,500 euros.
Lady Hazel Lavery, the second wife of the painter Sir John Lavery, became friendly with Michael Collins while he was negotiating the Anglo-Irish Treaty of 1921.
Apparently distraught after his death in 1922, Lady Lavery contacted General Beaslei who was writing a biography of Collins.
In the letter she spoke of his "gay courage and brilliancy as a romantic figure", referring to a man with "a wonderful beauty of character and qualities of statesmanship that only a few had begun to recognise".