Corporation tax talks at Stormont 'constructive'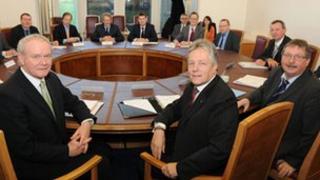 Ministers from Stormont and Westminster said they had constructive discussions over plans to cut corporation tax in Northern Ireland.
The meeting was the first time they had met to discuss dropping the rate of corporation tax in NI from 26% to match the 12.5% levied in the Irish Republic
First Minister Peter Robinson said he was "very content" with the meeting.
Deputy First Minister Martin McGuinness said the issue carried a "difficult challenge for officials".
The meeting of the joint ministerial working group was also attended by Secretary of State Owen Paterson, David Gauke, the treasury minister at Stormont Castle, and Stormont Finance Minister Sammy Wilson.
Mr Gauke said officials would now work on detailed plans about how a cut could work and the possible implications.
Speaking after the meeting, Mr McGuinness said he had originally been concerned that there had been a "cooling off" from the Treasury about the tax cut, but said Thursday's meeting had shown a "considerable warming up" of the issue.
The deputy first minister said it was now "game on".
'Nitty gritty'
Secretary of State Owen Paterson, who has long championed the tax cut, said it was now time to get into the detail.
Prior to the meeting, Mr Paterson said it was an important opportunity for local politicians to make their case.
"This is real nitty gritty discussion which goes beyond our election and our coalition commitment to have a consultation and write a paper on the rebalancing of the economy," he said.
"This is really serious stuff before the Westminster government makes a decision one way or the other as to whether we will devolve corporation tax."
On Sunday, Finance Minister Sammy Wilson said that the price must be right if corporation tax is to be devolved to the executive.
"We understand we have got to pay the price. That is a rule that we can't escape," he said.
"But we want to make sure that price is the correct price, it's reasonable and does not hamper our ability to do other things in the economy by cutting a massive amount off the block grant."
If agreed, the tax cut would have to be accompanied by a proportionate reduction in the block grant - the money Northern Ireland gets from the Treasury. That could be a cut of more than £400m a year.
In October, Mr Wilson said that if agreed, it would be at least four years before the corporation tax level in Northern Ireland is cut.