Belfast one of the UK's top five most productive cities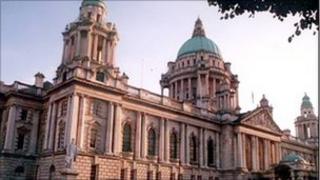 Belfast has made it onto the list of the top five most productive cities in the UK.
The breakdown of figures across the UK for 2009 and 2010 has just been released.
Topping the list of cities by a long stretch is Inner London West, followed by Edinburgh, then Inner London East, Berkshire, and Belfast.
In 2009, Belfast produced nearly £30,000 per head of population.
But when you look at the figures for Northern Ireland as a whole the picture is very different.
In 2009 Northern Ireland was the least productive region.
In 2010 Northern Ireland rose just above Wales, but still lags far behind England and Scotland.
The figures from the Office for National Statistics compare Gross Domestic Product (GDP) in different regions of the UK.
Gross Value Added (GVA) is the measure they use, which looks at the value of goods and services produced in a geographical area.
It is a way of taking the national GDP and seeing how it breaks down at a local level by taking out all taxes, except VAT, because they vary area to area.
The figures for 2010 show that Northern Ireland produced £15,651 per head of population.
That is 2.6% growth, which is significant after such a big dip in productivity in 2009.
At that stage Northern Ireland had the lowest productivity level in the UK at -4%.
The latest 2010 figures show that Wales now produces a little less than Northern Ireland per head of population, but Scotland and England are still considerably more productive at £20,220 and £20,974 per head respectively.
In 2010, London's GVA per head was 71% above the average for the United Kingdom, while Northern Ireland was 24% below the average.
Belfast was blazing a trail in being dramatically above Northern Ireland's average productivity level in 2009, and although city breakdown figures are not available yet for 2010 it is expected to show something similar.
The Office of National Statistics said the main reasons for growth across the UK include increasing exports of goods.
You can hear more on this story on the NI Business News podcast.