Michael O'Neill: Shamrock Rovers' history man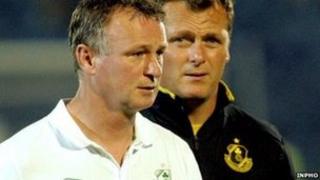 "This is the first step of a new history that we can write for this football club and hopefully it is a history that we can build on and go from strength to strength."
The words of Michael O'Neill after he had guided Shamrock Rovers to their first League of Ireland title in 16 years in October 2010 were prophetic.
But as the former Northern Ireland international prepares to leave the Dublin club following Thursday night's Europa League group game against Tottenham Hotspur, their fans might be wondering what steps are left to be climbed.
Prior to his arrival from Brechin City in 2009, Rovers had collected more football grounds than major trophies since the sale of their Milltown home in 1987.
The most successful team in the Irish Republic also suffered the ignominy of relegation from the top flight for the first time in 2005.
However, O'Neill's appointment as manager has coincided with their greatest period of stability for decades.
The club has taken up residence at a permanent stadium in Tallaght on his watch, intensified its efforts in youth development and enjoyed glamour friendlies with the likes of Real Madrid and Newcastle United.
After finishing second in the League of Ireland Premier Division during his first season, Rovers went on to face Italian giants Juventus in a Europa League third round qualifier.
Two successive league titles have also been achieved as well as the Setanta Cup.
European odyssey
This year, they became the first Irish club ever to reach the group stages of a European competition.
A remarkable 2-1 away win over Serbian side Partizan Belgrade catapulted Rovers into the big time, earning them hundreds of thousands of euros and fixtures against Tottenham, Russia's Rubin Kazan and Greece's PAOK Salonika.
They may have lost their five games to date in the group, but they have won the hearts of a number of neutrals, even taking the lead against Spurs in the White Hart Lane fixture before eventually losing 3-1.
O'Neill was at a variety of clubs across the UK during his playing career, including Newcastle United, Coventry City, Hibernian and Dundee United.
Now it appears his next step might be closer to home, with an interview for the vacant Northern Ireland manager's job due to take place in Belfast next week.
He may have mixed emotions at leaving, but as he summarised Rovers' European odyssey the 42-year-old retained a keen eye for the future as well as the past.
"It's like any other job you do, once you're tested and meet that test then you will progress," he said.