Nama takes over McGinnis group loans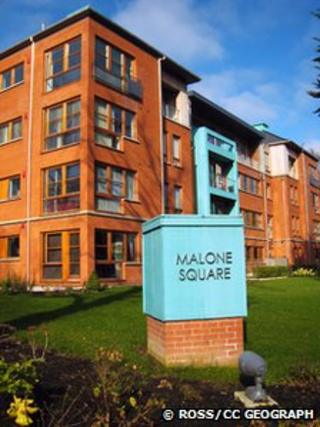 A Northern Ireland property developer has confirmed that its bank loans have been taken over by the National Assets Management Agency (Nama).
The details are contained in the annual accounts of the Londonderry-based McGinnis Group, whose registered name is Monnaboy Ltd.
Nama's job is to buy and manage property loans held by Irish banks.
It was set up as part of the Irish government's response to the property and financial crisis.
The agency is sometimes referred to as a "bad bank" but it takes over "good" loans, which are being repaid, as well as bad loans.
The McGinnis Group had about £63m in loans from Bank of Ireland and it is most of these which are now due to Nama.
The company is a major housebuilder and in the boom years developed high-end schemes like Wellington Square on the Annadale Embankment in south Belfast.
The business has shown an operating profit in the last two years but has posted big pre-tax losses as a result of having to write down the value of its land-banks and work in progress.
The McGinnis accounts show the firm reported a loss of £25m in 2010. That comes on top of a £35m loss in 2009.
That firm's liabilities now exceed its assets by £58m as a result.
Continue
A note in the accounts adds that the ability to recover the value of its land will "require the restructuring of bank debt by Nama" and the availability of development finance.
Nama has a development fund of about 5bn euros which it is making available for viable projects.
The McGinnis directors say that in light of Nama's "stated desire to stabilise and revitalise the construction sector" they expect that the company will be able to continue in existence for the foreseeable future.
The firm is currently working on two developments at Coopers Mill in Dundonald and Bracken Hill in Castlereagh, which it says have been selling well.
Another of the group's companies, Edenreagh Developments, shows that Bank of Ireland had mortgages over a significant amount of property including 10.5 acres at Blaris Road in Lisburn and 35 acres in Inverness, Scotland.
Nama has taken over around £3.5bn of loans which relate to Northern Ireland.