Stormont committee hears of numbers seeking work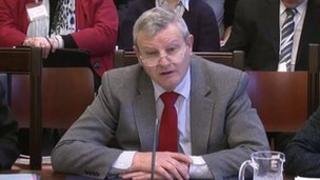 There are 110,000 people in Northern Ireland actively seeking employment with only 5,000 current vacancies available, a Stormont committee has been told.
Peter Bunting, assistant general secretary of the Irish Congress of Trade Unions (ICTU), made the claim.
He was addressing members of the social development committee on proposed changes to welfare reform.
The number of people claiming unemployment benefit in NI is 60,900.
"There are also 51,000 who have been stuck in the 'economically inactive' group who are actively seeking work," Mr Bunting said.
"One wonders how and where those 100,000 plus people are going to get work if they are being cut from welfare."
The Westminster Welfare Reform Bill proposes a move to the single universal credit from 2013.
This will be paid to people both in and out of work, replacing child tax credit, working tax credit, housing benefit and income support, among others.
One estimate is that the Northern Ireland welfare bill, which was running at more than £4bn in the year 2009-10, could be cut by more than £600m.
Mr Bunting said he "would welcome welfare reform if it was designed to simply access people's right to benefit", although he said he found the plans "entirely negative on a number of fronts".
He said he was concerned that the major reform of the welfare system would lead to a "progression towards poverty", although he was adamant he was opposed to welfare fraud which he claimed was in excess of £1bn throughout the UK.