Irish state 'open to Papal visit' says deputy prime minister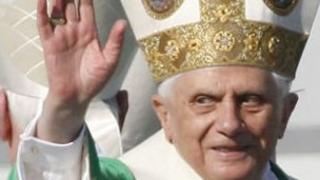 The Irish government is willing to invite the Pope to Ireland, the country's deputy prime minister said.
Tanaiste Eamon Gilmore said he wanted to remove misunderstandings following the closure of the Irish Embassy to the Holy See.
The Vatican's special envoy to Ireland was recalled in July.
It followed scathing criticism by Irish Prime Minister Enda Kenny of the Vatican's role in the Catholic Church's handling of child abuse.
Mr Kenny accused Rome of "elitism, dysfunction, disconnection and narcissism" - the kind of language never previously used by a political leader in predominantly Catholic Ireland
However, on Wednesday, Mr Gilmore told the Dail committee for foreign affairs that if the Vatican requested a papal visit to Ireland, he had no doubt the government would be positive about it.
He said this might happen at a time "of mutual convenience" such as the 2012 euchararistic congress.