Sean Quinn's wife claims she was under his 'undue influence'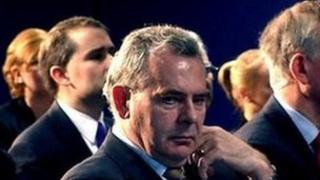 The wife of Fermanagh businessman Sean Quinn has said she should not have to repay a 3m euros bank loan because she was unduly influenced by her husband.
Patricia Quinn told the Commercial Court in Dublin that she was a homemaker and regularly signed documents without reading them.
Mr Justice Peter Kelly said in law there had been no presumption of undue influence between a husband and wife since 1750.
Judgement in the case is due later.
The Irish Bank Resolution Corporation (formerly Anglo Irish Bank) is seeking the repayment of the loan that Mrs Quinn took out with her husband in 2006.
She claimed she had been a homemaker for 36 years. She said she did not know what she was signing and did not get the benefit of the money.
'Cat's paw'
Mrs Quinn said no-one from the bank spoke to her about this loan. And until the proceedings began, she said she did not even know she was a customer of Anglo.
She said she did not know she was signing a document which would leave her exposed to a liability of 3m euro. She said someone from the bank should have made her aware of this.
The bank rejects her claims as she had been a director of 91 Quinn Group companies.
Senior Counsel for the Irish Bank Resolution Corporation (formerly Anglo Irish Bank) said her claim was "an incredible proposition" which was in breach of the Irish constitution.
IBRC described Mrs Quinn's claims as not credible.
Patricia Quinn was a director of 63 Irish companies and was a company secretary of ten others.
IBRC also told the court that Mrs Quinn held directorships of another 28 UK companies.
Speaking in court on Thursday, Mr Justice Kelly said Mrs Quinn was advancing the proposition she was "a cat's paw" for her husband, "clueless" about being a director of many companies.
He said her claim was "startling" and "astonishing" as she was saying she had no will of her own and signed every document put in front of her without a clue what they were about.