Irish language sign is Belfast City Hall first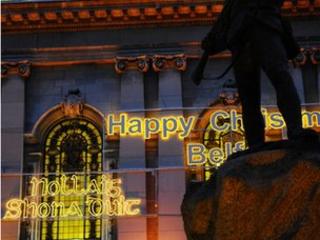 An Irish language Christmas sign at the centre of controversy among councillors has been put up outside Belfast City Hall.
The greeting wishing all "Nollaig Shona Duit" or Happy Christmas is close to where the Big Wheel used to stand.
Sinn Fein described it as "a great sentiment of peace and good will and a first for Belfast City Hall."
But unionists were unhappy and one councillor said the decision made was an "act of bad faith".
The sign was offered free to the council by west Belfast language centre An Culturlann.
Unionists walked out of a meeting where councillors voted to accept it. The DUP, Ulster Unionist Party and PUP members argued that Sinn Fein, the SDLP and the Alliance Party had broken an all-party agreement to allow a working group to make such decisions.
Mairtin O Muilleoir, Sinn Fein, said the sign offered a "great sentiment of peace and goodwill to all the people of Belfast in Irish for the first time".
But David Browne, UUP, who has described Irish as "gobbledegook" said the decision was "an act of bad faith".
"The Irish language or Ulster Scots, it's all gobbledegook to me. The more polite way is to say that I don't understand it," he said.
"Even before the working group had met they did this. It is an act of bad faith," he said. "But I'm not really interested, the sign is up and that is it."
Mr O Muilleoir said: "The people who ran City Hall for the entire 20th century would not allow any acknowledgement of the Irish language. They said we broke an agreement?
"Even Scrooge did not come up with that excuse, it is bunkum. These are the people who, when they were running the place, had no interest in consensus. We have an interest in consensus."
Maire Hendron, Alliance Party, said her party voted for the sign to be erected.
"It was not going to cost the council anything. We did it in the spirit of good will and Christmas, it is a one-off," she said.