Board defends move to track down NHS whistle-blowers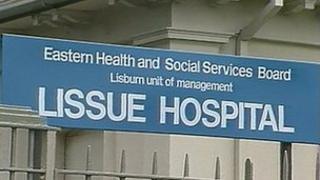 NI's Health and Social Care Board has defended its decision to call in police and the Cabinet Office to find NHS whistle-blowers.
It follows documents leaked to the Irish News which exposed allegations of years of abuse in two former children's hospitals.
More than 100 health workers received a letter and a questionnaire which trade unions described as "scare tactics".
But the HSCB said taking the documents was a "serious breach of security".
The board said removing them was "theft".
Over the past number of weeks, there have been reports of alleged child abuse at the former Lissue House and Forster Green Hospitals in the 80s. Newspaper stories were backed up by leaked documentary evidence.
John Compton, the chief executive of the board, has confirmed that the Cabinet Office had been asked to investigate the possible removal of documents and identify sources.
Mr Compton said protecting personal and confidential information was "extremely important".
"These are features which the board believes the public requires and expects of modern public services in order to safeguard the privacy of individuals," he said.
The letter sent to staff said questionnaires would be followed by interviews.
The HSCB said it had a whistle-blowing policy and encouraged staff with concerns to raise them through this. It said that none of the issues was raised through the policy.
The Royal College of Nursing and the public service union Nipsa have criticised the decision to send a questionnaire to staff at the board and the Public Health Agency who are understood to have had access to the reports.
"We object to the language in the letters and we object to the whole process," said Kevin McCabe, assistant secretary of Nipsa.
He said he felt the leaked information was in the public interest and the person who leaked it did not, perhaps, have faith in the board's whistle-blowing policy.
"You are trying to shoot the messenger," he said.
Michelle Gildernew, chair of the health committee, said the board's approach was "heavy handed and intimidatory".
"I can understand both Nipsa and the RCN's concerns.
"What I would prefer to have been reading about in the paper was John Compton's efforts to try to establish what actually went on in the 80s and 90s in some of our state-run institutions and how allegations of abuse were dealt with by the people charged with looking after our most vulnerable children," she said.
"I'd prefer to be reading about his very robust attempts to ascertain the truth about all of that and take whatever appropriate action was necessary."
Mrs Gildernew said whoever leaked the information did so in the public interest.