Downpatrick Christmas tree vandalised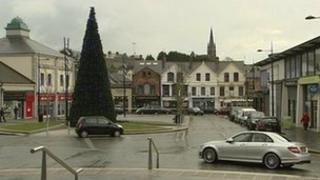 A 12-metre high Christmas tree in Downpatrick town centre has been vandalised.
The artificial tree was attacked less than two weeks after the town's Christmas lights switch-on.
Down District Council's chairman, Councillor Dermot Curran, said he was "outraged at this mindless vandalism".
"I cannot believe that someone has broken its branches. What sense is there in that? What fun does anyone get out of it?" he asked.
Mr Curran said the area is monitored by CCTV cameras and the council will ask the police to check the footage with to identify those responsible.
He said the council had hoped the new sustainable tree would be seen in the town centre for a few more Christmases to come, but that had now been jeopardised.
"It will now cost our rate-payers money to replace the missing branches," he added.
Last year the council erected a "credit crunch" Christmas tree between a public toilet block and a postbox.
It later agreed to replace the tree, which was branded "a laughing stock".
A larger tree was then erected in the town's St Patrick Square.