Stephen Carroll accused Sharon Wooton changes legal team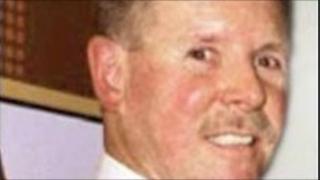 A woman accused of perverting the course of justice in relation to murder of Constable Stephen Carroll, has been permitted to change her legal team.
Sharon Wooton's son John Paul Wooton is one of two men charged with the killing
She denies giving police false information and removing computers from her home in case they would be seized.
The 39-year-old from Collingdale in Lurgan dismissed her legal team just hours before the trial was due to start, earlier this week.
Constable Carroll, 48, was shot in the head on 9 March 2009 in Craigavon.
On Friday, Lord Justice Girvan accepted Ms Wooton's new legal team, acknowledging the delay and that there may be ''public funds issues".
However he added: 'The real question is one of justice, the alternative would be for the defendant to represent herself".
Ms Wooton's new barrister, Karen Quinlivan QC, said she was working through "70 lever arch files" in relation to her client, but said "we are optimistic that we can deal with it and will not interfere with the trial date".
She also described her client as "a relatively vulnerable individual... the circumstances of the case are particularly difficult for her because both she and her son are charged".
The date for the start of the trial has been set as 9 January. Lord Justice Girvan said all parties must be aware that ''the court does not envisage any further delay".
Constable Carroll, a grandfather with over 24 years service with the police, was the first officer to be murdered since the changeover from the RUC to the PSNI.
His shooting, as he was responding to a 999 call near the end of his 12 hour shift, came just two days after dissident republicans murdered two soldiers outside Massareene Barracks in Antrim.
Brendan McConville, 39, of Aldervale, Tullygally is also charged with the murder.