Sean Quinn's wife told to repay 3m euros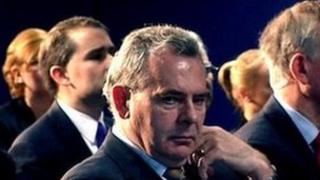 The wife of Sean Quinn must repay the former Anglo Irish Bank more than 3m euros arising out of a loan she took out with her husband five years ago.
Patricia Quinn had said she did not know what she was signing when she signed the loan agreement and did not get the benefit of the money.
The Irish Bank Resolution Corporation (IBRC), formerly Anglo Irish Bank, described her evidence as incredible.
On Friday, Judge Peter Kelly granted judgment to the bank.
The case was heard at the Commercial Court in Dublin.
Mrs Quinn had argued that she was a homemaker and regularly signed documents without reading them.
However, the IBRC said she was a director of 63 Irish companies, a company secretary of 10 and that she held directorships in 28 UK companies.
Mr Justice Peter Kelly said a lot of criticism had been made of the credibility of Mrs Quinn's evidence.
He said for the purpose of this case he was going to set aside all questions of credibility and accept everything said in her sworn statements by Mrs Quinn as accurate and truthful.
'Cursory glance'
But he said she had failed to make out an arguable defence to the claim by the bank for the repayment of the loan.
He said even the most cursory glance at the documents she had signed would have told all but an illiterate person that she was entering into some form of borrowing agreement.
He also said she had been negligent by signing documents put in front of her without finding out their effect.
Justice Kelly asked what could be more negligent than willy-nilly signing formal legal documents without giving a thought to their effect.
He also said Mrs Quinn's lawyers had argued that there was a presumption of undue influence in the relationship between husband and wife.
Mr Justice Kelly said there was no evidence of undue influence by Sean Quinn.
He said there was no evidence that Mrs Quinn suffered from an intellectual disability, a mental illness or cognitive impairment and there was no evidence at all of threats or bullying by her husband.
In relation to Mrs Quinn's argument that she did not receive the money, the judge said whether it was used to complete the decoration of the Quinn home or for something else was a matter for the borrowers.
The loan was drawn down at the direction of Mr Quinn, and was used.
He said if Mrs Quinn did not consider that she got value from the borrowing, then that was a complaint against Mr Quinn, not against the bank.
He refused an application by lawyers for Mrs Quinn for a stay on the order pending a possible appeal to the Supreme Court.
The judge said they would have to ask the Supreme Court for any stay.