Excrement smeared on Alliance Party headquarters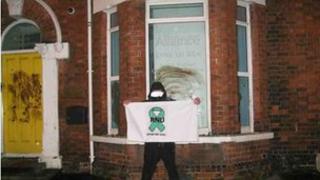 Republican protesters have smeared excrement on the doors and windows of the Alliance Party headquarters in south Belfast.
Earlier this year members of the Republican Network for Unity occupied the building in support of prisoners at Maghaberry.
The Alliance Party leader David Ford is also the Justice Minister.
The police say they are investigating an act of criminal damage at the building on University Street.