Belfast robber given nine-year sentence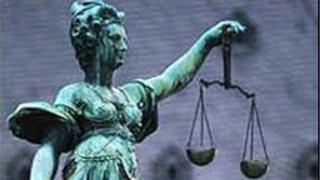 A Belfast robber with "a staggering" number of previous convictions has been sentenced to a total of nine years.
A judge said Darryl Paul, 24, from Devon Parade, will serve half of the sentence in custody followed by the same period under supervised parole.
Paul, who has 40 previous convictions, pleaded guilty to a series of crimes.
They included robbery, hijacking, having a gun, handling a stolen car - committed in July last year, and shop-lifting in October 2009.
Paul appeared in Downpatrick Crown Court, sitting in Belfast, via a link from Maghaberry Prison.
The judge said Paul got into a post office van in Holywood on 5 July last year armed with what the driver took to be a handgun.
Judge Alastair Devlin said the driver was told he "would be shot in the head if he didn't do as he was told", before he himself was robbed of his own money because his van was not transporting cash.
He was then ordered to drive to Belfast, and while en route, was threatened with having his legs blown off if he did anything stupid.
Rifled through parcels
Paul eventually ordered the driver into a cul-de-sac in east Belfast where he was joined by a second man who had been waiting in a car.
Together they rifled through the parcels in the back of the van, before driving off.
Just under two weeks later, Paul was spotted with a second man changing the wheel on a stolen Volkswagen Golf, taken earlier in a burglary.
Although, there was no evidence of Paul's involvement in the burglary, he admitted obstructing police and handling the stolen car.
The court heard in October 2009, Paul admitted going shop-lifting in Holywood, targeting stores, and taking items of high value which he placed in a holdall.
Paul was sentenced to seven years for the robbery and associated crimes, plus two years for handling the stolen car, making a total of nine years.
The final term of one year, for the shoplifting, will run concurrent with those sentences.