Calls to restore Cultra Railway Station to former glory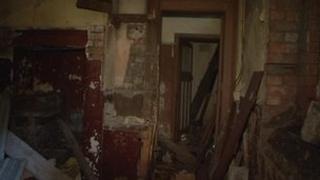 Calls are being made to save a landmark building in north Down.
Cultra Railway Station has been lying derelict since the 1970s and because of its unique design it is the only building of its kind in Northern Ireland.
Nestled in the sleepy north Down suburb of Cultra is the old red bricked Cultra Railway station and station master's house.
The building is more than 100 years old and according to Larry Thompson, a retired conservation architect, it was designed to be as grand as the neighbouring gentry.
"If you look at the outside the barge boards, the facia boards, they are all very decorative so it is very unique really it is a unique building from a design point of view it represents that Victorian period.
The building which sits on the main Belfast to Bangor railway line is in a bad state of repair, both inside and out.
Most, if not all of the windows are broken, the roof is damaged and there is a lot of graffiti.
Councillor Andrew Muir said even though it was listed four years ago, people are worried about its future.
Heritage
"There's some concerns about the building being vandalised and maybe set fire to and I think that is where the concerns lie, that we secure the building, not just for now, but for the future and that is about investing in our built heritage," he said.
"In Northern Ireland we don't really do that, we don't really see the value in built heritage."
The Department of Environment has confirmed loans on the property have been transferred to the Irish bad debt agency Nama.
For some that presents an even greater worry for its future.
It is on the market for £450,000.
The estate agent handling the sale David Menary, would not reveal who his clients were, but he said they were keen the property was sold.
"It is a piece of history," he said.
'Character'
"I think the look of the building is very attractive.
"I think it is very rare to find properties with such character on the market today, also with new build properties you will rarely find this amount of character, so I think the entire north Down would love to see this restored and back to its former glory."
It had been thought the renowned architect Sir Charles Lanyon was behind the building, but Larry Thompson told the BBC that his station was destroyed in a fire in 1896 and the existing building was built a year later.
"The engineer to the County Down railway was George P Culverwell and he supposedly designed this building and not Sir Charles Lanyon," he said.
However, Mr Thompson said Lanyon's design roots can be traced.
"Because of the ornamental style, especially the red brick and the black banding, this is more ornamental than any of the others (stations) and it is very precious therefore for our heritage," he said.
The site has been granted planning permission for change of usage, but campaigners would like part of it retained as a visitor's centre and as part of the nearby Ulster Folk and Transport Museum experience.
"It is so unique as a station - the waiting rooms, the old fire lit, and it would be ideal if they get off here, they come in here and have a cup of coffee - see all the old signs and then wander up the folk museum," he said.
But unless a new owner is found, it could be bye-bye to this by-gone era.