Residents moved after another section of Derry wall collapses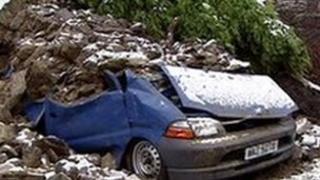 A wall near homes, which partially collapsed in Londonderry earlier this week, has given way again.
On Wednesday, a 30ft section of the wall in Marlborough Terrace collapsed causing a landslide which crushed cars.
Gerry Wilson, a resident at Marlborough Terrace, said a larger section had collapsed on Saturday afternoon.
He said people in seven houses had been told to leave their homes.This is due to a possible further collapse.
Mr Wilson also said a garage had been damaged as a result of the incident.
Police had diverted traffic away from the area on Saturday afternoon.
It is understood officials from the Department of Environment were tasked to attend.
In a separate incident on Thursday, 50ft of a wall in Harding Street, near Abercorn Road in the city, collapsed.
Derry City Council said they visited Harding Street to inspect the collapse of a retaining wall, and made the area secure.