Quinn business move is 'bankruptcy tourism'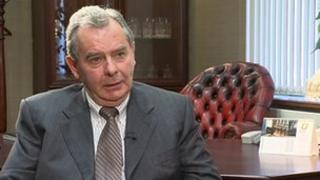 Businessman Sean Quinn is involved in "bankruptcy tourism", a barrister for the former Anglo Irish Bank has said.
Gabriel Moss QC made the comment at a High Court challenge to Mr Quinn's bankruptcy status in Belfast.
Anglo, now the Irish Bank Resolution Corporation, said his main financial interests are in the Republic and he was not entitled to bankruptcy in NI.
Mr Quinn rejected this and said his so-called "centre of main interests" is in County Fermanagh.
The bankruptcy regime in the Republic of Ireland is much more onerous than the one north of the border.
In the Republic the period of bankruptcy typically lasts 12 years while in Northern Ireland it can be just one year.
The court heard that Mr Quinn claims he moved his centre of main business interests to an industrial estate in Derrylin in April of this year.
In an affidavit, Mr Quinn said he was using the office in the village to work on unspecified new business opportunities.
However Mr Moss said that Mr Quinn's "alleged new office" is not a place of business, meaning Mr Quinn's home in Ballyconell, County Cavan in his centre of main interests.
The centre of main interests is the key point in IBRC's attempt to annul Mr Quinn's bankruptcy.
The bank claims Mr Quinn's main interests are in the Republic of Ireland which invalidates the bankruptcy move in Northern Ireland.
The Irish Bank Resolution Corporation (IBRC) says it is owed 2.8bn euros (£2.4bn) by Mr Quinn.
Place of business
Mr Moss said there was "a huge credibility issue" over whether Mr Quinn was using the office in respect of these alleged future businesses.
He said Mr Quinn appeared to be using the office as a place to pursue his litigation against the bank which did not amount to a business.
The barrister also questioned whether Mr Quinn had begun using the premises when he said he did.
There was no mention of them in his Statement of Affairs filed at the time of his bankruptcy in November.
Mr Moss said that the lease, which was signed on 2 May, had not been witnessed which was "very unusual."
He put it to the court that "the document was produced for these proceedings" and had been backdated.
The barrister also dealt with the issue of "ascertainability" - whether Mr Quinn's centre of main interests was apparent to third parties.
He referred to an affidavit where Sean Quinn said he purposefully kept the new office a secret from IBRC. Mr Quinn stated that this was to prevent the bank "snooping" into his family affairs.
Mr Moss said Mr Quinn was within his rights not to tell the bank about his new office, but his failure to do so "may place him in difficulties" when it comes to his claim that it is his centre of main interests.
'Complexity and expense'
The barrister also made clear for the first time why IBRC was opposed to Mr Quinn's bankruptcy in Northern Ireland.
He said it was because the move adds "complexity and expense" to the bank's dealings with Mr Quinn.
He added that the bank was already instructing solicitors in Dublin who were familiar with the Quinn finances and that the bankruptcy in Northern Ireland meant instructing another firm of Belfast solicitors.
Mr Quinn's barrister is expected to make submissions on Tuesday and the case is expected to conclude on Wednesday.
Mr Quinn was in court on Monday and will be present throughout the hearing, though he is not expected to be called on to give oral evidence.
The 63-year-old was granted a voluntary adjudication over the alleged debt in November.
It is believed to be one of the biggest bankruptcy orders of its kind ever made in the United Kingdom or Ireland.
Mr Quinn was stripped of control of his manufacturing and insurance business empire in April.
He and his family are engaged in a legal battle with the bank.
Mr Quinn was reputedly worth 4.72bn euros (£3.7bn) at the height of his success.
He said he brought the bankruptcy application north of the border because he was born, reared and worked all his life in County Fermanagh.